24 hours in Barbados? No worries! We're counting down the exciting things to make your short trip the most memorable.
Number 5 – A day cruise
There are many catamaran boats that offer a day cruise where you can to swim with turtles, explore sunken ships and sip on some classic Barbadian rum punch.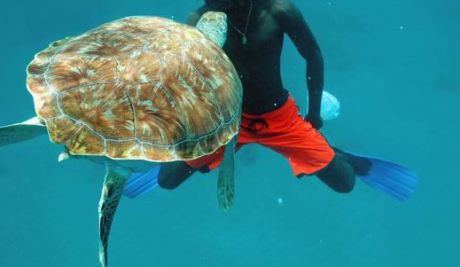 Number 4 – Harrison's Cave
A magnificent crystallized limestone cavern is acclaimed for its pure waters and flowing streams which aided in the formation of the stalactites and stalagmites.
Number 3 – A taste of local cuisine
The national dish of Barbados is Cou-Cou & fried Flying Fish with spicy gravy. Others include  "Pudding and Souse" a dish of pickled pork with spiced sweet potatoes, cutters, breadfruit, macoroni pie, coconut, pepper sauce and peas & rice.
Cou cou with flying fish
Number 2 – Enjoy a day at the beach
Beautiful sandy beaches of Barbados protected by coral reefs and ideal for sunbathing and a host of watersports like jetskiing, kayaking, kitesurfing, swimming, boogie boarding and snorkeling.
.
Number 1 – Tour the island (car or tour bus)
If you are more of the adventurous type rent a car for the day and explore the island by map. Some of the sights that you have to see include;
Morgan Lewis Windmill
Bathsheba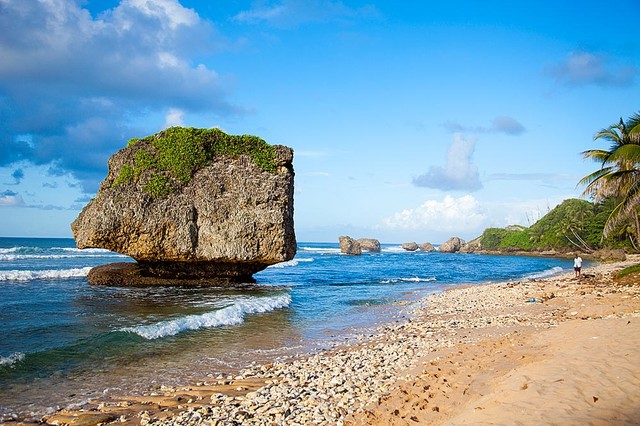 St. Nicholas Abbey
Hunte's Gardens
Hackletons Cliff, St. Johns Parish Church, St. Joseph Parish Church and many more. Enjoy!