I was in Turkey a few years ago and if there is one thing that stood out to me was the food. The combination of flavours and ingredients are blended together to form dishes historically influenced by a number of cultures including the Greeks, Ottomans, middle eastern and Balkans. These days Turkish cuisine is fast making a name for itself on the worldwide culinary platform. It's only fair to bring you the most popular Turkish food dishes you absolutely must have:
1. Corba : Delicious Soup
I bet you did not see this one coming but simple soup is very populat in Turkey, even for breakfast. Popular choices are lentil or tomato soup but if you are a culinary adventurous type try tripe, sheep brain or tongue soup. Black cabbage soup is traditional to the north east of Turkey, in the black sea region.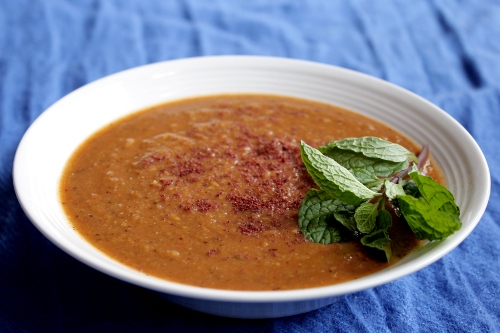 Lentil Corba
2. Kumpir (Baked Potato)
A jacket potato with a crisp outer skin and soft inside, mashed up with butter. It;'s actually popular as street food in beach side resorts and cities. It is simply . You have a variety of toppings to choose from  including cheese, sausage, pickles, and Russian salad. If you are in Istanbul, the most popular area from which to sample the dish is Ortakoy.
Ortakoy Kumpir Ingedient Display
3. Lahmacun (Turkish Pizza)
A thin crust of pastry is covered with toppings including cheese, egg, diced meat, chicken or tuna and then it is put it into a high heat stone oven. It's popular in lokantas i.e. Turkish restaurants serving cheap and traditional Turkish food. Traditionally served with salad, it's a great meal choice for vegetarians as many fillings are available.
4. Kofte
Turkish meatballs – a favorite for the children and adults. Sold in a wrap as street food or served on a plate with rice and salad in restaurants.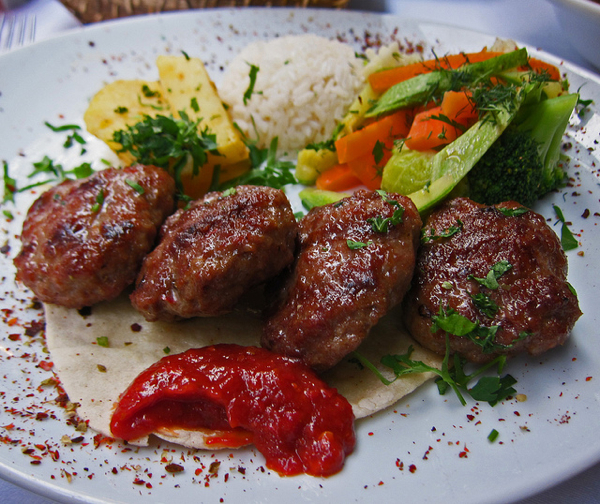 5. Baklava 
Turkish people have such a sweet tooth and so this will be perfect for you if you're the same. It is layers of filo pastries, filled with nuts and then covered with a sweet honey or syrup. Found in most supermarkets and pastry stores.
6. Doner Kebab
Large skewers of rotating chicken or beef are cooked slowly before the cook slices stripes from the outside of the skewer, places them in a pastry wrap, and then fills it with lettuce, onions, and tomatoes.
Doner Kebab is especially delicious with a glass of Ayran. (Yogurt, salt and water).
7. Mezes
These are appetizers, traditionally eaten before a meal or on their own as a snack. Popular mezes include:
Acılı ezme- a hot paste made from peppers
Patlıcan salatası (cold aubergine salad)
and Cacik (yogurt, cucumber and garlic)
8. Gozleme
Cheap, tasty and very filling, it is layered pastry filled with a variety of fillings including spinach, cheese, potatoes and parsley. Cooked on a large grill and normally accompanied with tea or Ayran, it is a perfect choice for lunch and ideal for people travelling on a budget.
9. Menemen
Menemen is not often seen on restaurant menus but most kitchens will make it for you, as it is quick and easy. Peppers, onions and tomatoes are fried in a pan and then eggs are scrambled into the mixture. It is served with fresh bread and delicious with homegrown olives.